Day 3
The surprise we awoke to was anticipated, but the anticipation did not detract from the realization. It was a bright sunny morning with hardly a cloud in the sky. Completely unusual for Ireland in mid October. The view over the harbor was stunning. It was indeed a beautiful morning.
Uncle John and Aunt Marie made their way to St. Coleman's Cathedral for Mass. Eddie, Theresa, Aunt Marie (not a typo or duplication), Deacon Arnold, Sinéad, and I all hopped into one of the rentals and made our way to the SuperValu for some grocery shopping. We must have looked like quite the crew pulling into that nearly empty parking lot at first open! We grabbed the essentials - except the salt, and we made our way back to the AirBNB.
We all enjoyed a quick bite to eat, regrouped, and made our way down the hill, to the docks, to get on-board (literally) for our next adventure. We got to enjoy the lovely morning scenery on the way down, and even walked past a German war ship.
The closest dock is all that remains of the dock used to load passengers on the ferry out to the Titanic. It was the last point of contact to the land many would have known.
Might have been a little more worried being this was the last port people boarded the Titanic from. Fortunately this was not that type of adventure! We found our way to the ticketing house and obtained our passage across the water to…
Spike Island
The waters were calm that day, and I believe many were relieved they were. We boarded the ferry boat and took what seemed to be the long way around Haulbowline Island and Rocky Island before reaching our dock on Spike Island. If I had to guess, I would say we took that route to stay in more protected / calmer waters given the size and shape of the craft we were in.
We unloaded ourselves and the tour guide kindly called together the large group we were part of and offered 2 options. We could either explore the island on our own for the 3 hours, or we could take the hour long tour he was going to present and then use the remaining 2 hours to explore. He also offered additional information regarding the size of the island and that there was far more to see of the island than the 3 hours really permitted. When he confirmed the end of the announcements our group opted to explore and we went back to the edge of the dock to get some photos with Cobh as the back ground.
As some might have noticed in the photos above; regrettably, Uncle John and Aunt Marie weren't able to catch the same time slot we were part of. They were still coming over, though. Just an hour behind.
Spike Island did indeed have a lot to be explored. We started that exploration with something probably uncommon for any tours to the island. I spotted a little beach area right off the side of the landing, it was a perfect opportunity to hunt for some sea glass for Sinéad's glass jar collection back home! It also was about the perfect location. We found far more sea glass than we were willing to carry home. Eddie found a couple matching glass rings for Theresa and himself. The rest of us couldn't resist the allure of the obvious topic of teasing right in front of us - especially with a Deacon right there. All teasing and joking aside, there were some really cool pieces, great colors, and much larger pieces than we've been able to find in the States. There were also some ceramic pieces strewn about the beach, but that was not what Sinéad and I were looking for. We also had the perfect glass jar waiting for our newly discovered treasures back home.
Having probably spent a little too much time scouring a beach when we paid for something completely different, we made the effort to pull ourselves away and actually take in what Spike Island had to offer. It was both what was an incredible fortress to witness, and an incredibly depressing re-purposing - for which it was better known. We made our way up the steep climb to the fortress / prison.
Eddie and I were joking around after the girls were giving Eddie a hard time about going up the hill backwards to better be a part of the conversation. We ended up jogging up the last strait bit of the hill backwards. The tour group was still well behind us, so there was no concern of running into someone. It was fun and took care of my cardio for the day! We reached the front gate and entered through what would have been the visiting room (to the left of the main gate).
Just like the Cork Gaol, Spike Island was setup with mannequins to represent the time period. It was slightly more unsettling that they were dressed in clothes from the 80's. The familiarity of the fashion made it feel just a little more real. We made our way over to where new prisoners to processed and had some fun with mugshots.
After making our entrance official, we took some time to explore some of the prison cell block area. The setup was very reminiscent of the Cork Gaol but, again, the more modern clothing gave the mannequins the potential to be real people just wanting to spook visitors.
Sinéad had just checked through one of the slide open cell windows to see a mannequin looking right at her from the other side. I was doing the only thing a loving and caring husband could do in that situation - laughing while taking her photo instead of consoling her in her sudden state of frightened shock.
With the terrifying bit out of the way, we made our way back over to another cell block area. We used the transitions to take some incarceration photos before proceeding inside to where there were rooms dedicated to documenting the riots of 1985.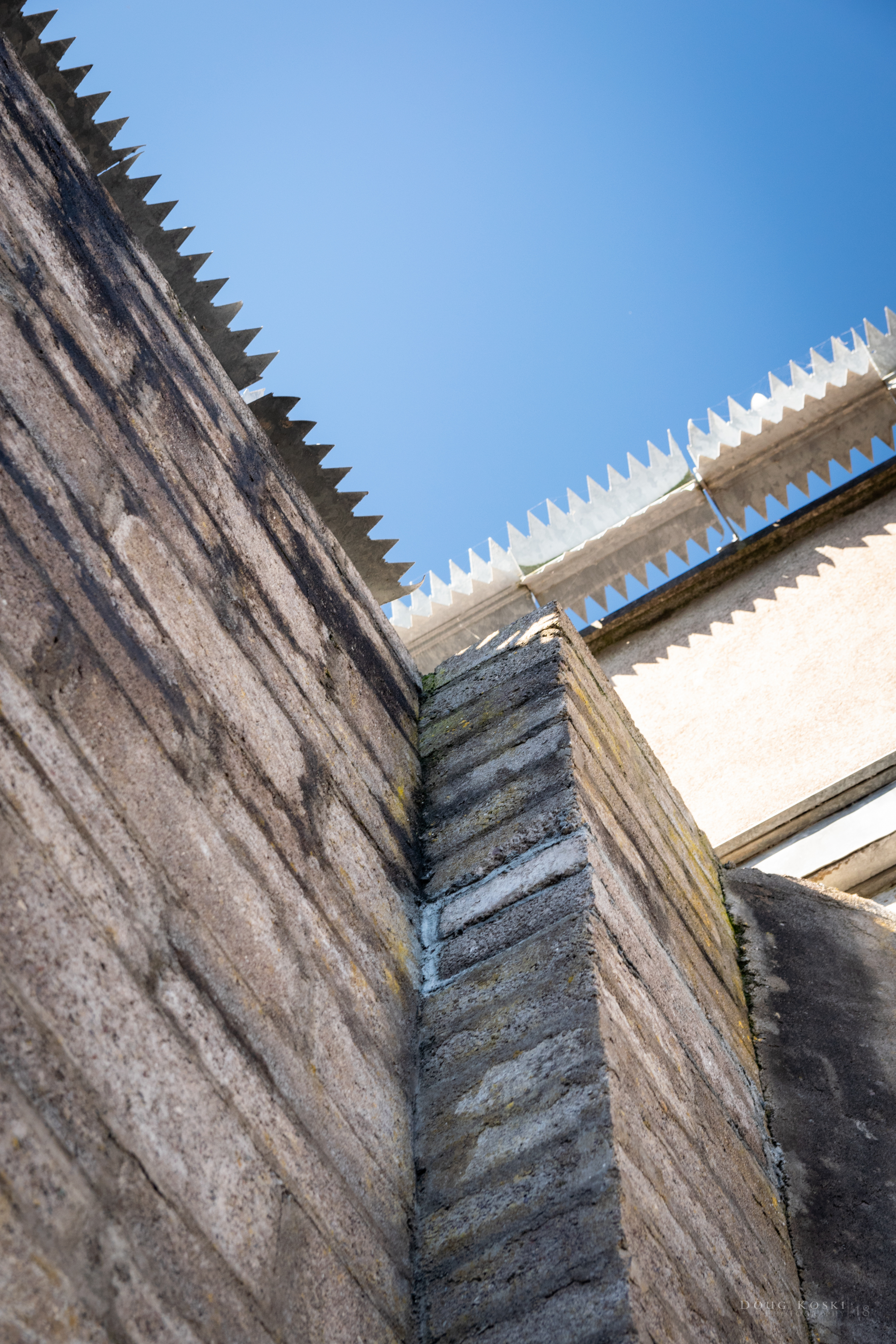 But I am sure these rolling spikes topping the wall would have worked as a fairly decent deterrent to attempting to climb the incredibly smooth and grip defying walls.
A tiny, curious part of me regrets not staying to take in more of the information presented in this last area. But, nearly the entirety of my being was dying to get back out into the sunlight. A week of rain leading up to the trip met 2 days of rain upon arrival, and I didn't want to let anymore sunlight slip out of my grasp than I absolutely had to - especially in Ireland. I left the others to their reading and made my way back out to the main courtyard.
Having so much emphasis placed on how this was a prison, it was a nice change of pace to see the fortress aspect come into focus. An unassuming dirt ramp guided up to the fortifications and the armaments that were still in place.
A few stairs to separate the armaments
As fun as it was to explore the tunnels and canon from the years as a fortress, the alarm system was going off and it was incredibly loud in the tunnels. I did my best to take some interesting shots, but soon had to seek the comforting quiet of the world outside.
Sinéad flagged me down and I joined her and Arnold for a quick bite to eat in the cafe. I hadn't realized how hungry I was, but I found my sandwich and drink quickly disappearing. Sinéad headed out with Arnold, and I took a quick look in a building that had some interesting historical pieces.
I met back up with Sinéad and asked if she wanted to join me in heading up to an overlook of Cobh. She was needing to wait for Arnold to wrap up with the punishment block section. She and I both agreed that we weren't interested in seeing what used to be used as punishments. I headed up to check out the overlook.
The sight was nice, but I knew we were starting to get short on time. I made my way back down and met back up with Sinéad and Arnold at the gift shop. Sinéad got into a discussion of travel with the lady at the register and was offering tips on cost effective options for visiting New York City shortly there after. We wrapped up in the gift shop and made our way back down towards the water's edge. There were still some derelict buildings I was interested in investigating, and Sinéad and Arnold were happy to explore with me.
Nature's reclaiming of the houses had made considerable progress since the evacuation of the inhabitants back in the late 1980's. Sinéad was sure the area would have been a place of never ending worry between being so close to the water and so close to the prison. I explained how I could have pictured it being a lovely place, and a simple fence would have helped alleviate the concerns of being close to the water. I could picture the little community area being quaint and cute in the right care. It was saddening to think there were people my age who knew these as their childhood homes, and that those childhood houses have been completely lost - lost to time, the elements, and the actions of others beyond their control.
We weren't completely out of time, and we were back to our sea glass beach. So, we did the only thing one might do in those circumstances; we hunted for more sea glass! We were far more picky this time around. I was seeing if I could find another hunk of ring glass, but I was not successful. I was able to find some more of the harder to find color varieties, though.
There's probably an actual and official name for this spot, but Sea Glass Beach works in the absence of that knowledge. Aunt Marie and I were the last 2 troopers looking for glass rings.
It was time to get boarded back on the ferry. Sinéad and I played peek-a-boo with a little girl who was teetering on the edge of being a little too over tired. Her parents were happy not to see her teeter towards the unhappy side of that balance. We got back on the dock in Cobh and decided it was time for a snack before making any other decisions.
But, first, group shot!
Having had a snack not that long ago, I followed behind at a slower pace and took the opportunity to grab a few afternoon shots of sea side Cobh.
I did end up grabbing some candy to share with Sinéad, because Irish candy is far better than American (regretfully, no level of joking on that one). Arnold was feeling ready to return to the AirBNB for a rest. After assuring us he was okay to head back, we discussed what we should explore next. I asked if it would be okay to check out the GIGANTIC Cathedral that dominates the skyline and everyone agreed they were okay with that option. I checked a map of the town and plotted the shortest trek to get to it (shortest = steepest in this town). We started the climb which eventually led us to a cool stairway tucked between buildings but obviously in place for the Cathedral.
St. Coleman's Cathedral
https://www.cobhcathedralparish.ie/parish-churches/st-colmans-cathedral-cobh/?on=3
We made our way up the longer than anticipated stairs before coming to a placard about the Cathedral, and then some more stairs. I was happy we were not dragging Deacon Arnold through this version of the up hill climb.
It was difficult finding a place to stand where I might have any hope of capturing the immensity of this structure. There was a lot of patience and thought put into attempting to place each capture. But, I feel walked away pretty happy with what I was able to take. The inside was no disappointment in comparison to the outside of this incredible building.
As amazing as the Cathedral was while taking these photos, it was even more stunning when we returned for Mass later that evening. In the meantime, we found the route back to the AirBNB was a fairly easy and not overly long route back. We got back and enjoyed a little relaxation before being able to enjoy dinner all together. It was approaching 7PM so Aunt Marie, Deacon Arnold, Sinéad and I made our trek over back to St. Coleman's. Mass was lovely. The Cathedral was lit by what seemed like 100 candles. A choir of well rehearsed and skilled vocalists offered the vocal compliment to the beautiful lighting of the incredible cathedral.
The dark lighting of the candles and soothing vocals of the choir made for a dangerous combination when factoring all the walking and exploring we had done that day. Sinéad and I were dangerously close to falling asleep, but didn't want to risk missing any of the experience we were part of. Mass found it's closing and we found our exit. Before too long we were back with the rest of the crew in the AirBNB. We had a fairly relaxing night and made our way to bed as the next morning would be just as early as the current days.
Day 4 greeted us with a slowly maturing and beautiful sunrise. We all got ourselves ready, had a quick bite for breakfast, and then got on the road to head to our next adventure location. The sunrise only got more beautiful while we were driving to Ballycotton. Though I could only hear the heckling of the vehicle I was driving, I knew the passengers of both were enjoying the same subject matter… Later it indeed was confirmed.
I did my best force the GPS into giving us a sane route, but eventually I let down my guard and I found myself (just like last year) on Shanavagoon Rd. As much as I was attempting to avoid the single car 2 direction road, we lucked out. The scenery with the sunrise was beautiful from the higher points of the road. We found a small place to pull over so Uncle John could cave to the urge to photograph the scenery. We also passed by the Ballymaloe Cookery School, and soon enough we were back in Ballycotton itself. We made it down the main drag, turned right before heading down to the docks and parked just in time to witness a gorgeous sunrise at one of my favorite places to visit.
Ballycotton Lighthouse
https://www.irishlights.ie/tourism/our-lighthouses/ballycotton.aspx
When I mentioned earlier that the sunrise was a slowly maturing one, it was no stretch of the truth. The autumnal sunrise in Ireland takes so long we had time to watch it start, drive 30 mins to this, and still get to enjoy the sunrise. And, it was well worth it!
The stop at the lighthouse was again a beautiful place to stop. We enjoyed our time with the sunrise there, and I noticed there were more cliff walks setup further down the road a bit. One of these visits, Sinéad and I will need to explore the cliff walks to see what all they contain. That will have to be an adventure for another day, though.
Still feeling the happy effects of seeing this spot and being so fortunate as to have the sunrise with it, we discussed what our next option might be for the day. A decision had been reached and we loaded into the vehicles to head back towards Cork City. A castle was next on the agenda, and traffic should have died down enough to make for an easier drive. Before too long (and with minimal misdirection from the GPS) we found ourselves at our next destination.
Blackrock Castle
Arriving early to most places on a Monday morning hardly ever fares well (especially if you're looking for a bite to eat in Maine - or the cafe at Blackrock Castle). That was almost the case with our trip to Blackrock, but Sinéad was able to work out having a quick tour before a local school went through. It worked out great! We missed the scientific studies portion of the tour again, but it was great to be able to get the morning views from the top of the tower on such a wonderful day.
We also did get to see the canon cellar and were treated to the explanation of how this room was used to ward off pirates using red hot canon balls for additional steam warfare.
Was all there… Plenty of stairs to spiral around and around on the climb up. Fortunately the beautiful weather meant the stairwell was incredibly well lit.
The visit to Blackrock was a short one, but it was great! We had semi planned our breakfasts thinking the cafe at Blackrock would be open. That was not the case, however. Sinéad and I had been wanting to eat at the Elm Tree in Glounthaune, and Sinéad pointed out this was a perfect time to do so! We all agreed, hopped back in the cars, and started off in that direction. Unfortunately, I decided to take a quick detour to Douglas, and made our turn around at the Kinsale Traffic Circle. It was a necessary tourist destination, so I couldn't help (or avoid) giving everyone a quick run through of the legendary circle. It was only a minor inconvenience, though. Once we got headed back in the correct direction I had no trouble navigating us back to our desired lunch spot.
We enjoyed a great lunch and then made our way towards Midleton. I took another slight detour on the way and we got to watch the train pass by. Afterwards we turned back around and headed to where we actually wanted to go. We missed the parking lot for where we wanted to be but were able to quickly pull a u-turn and meet up with the other car. This was not the day to let my inner GPS shine apparently… We all unloaded from the vehicles and enjoyed a nice walk on a paved pathway to help burn off our lunch. We retraced our route upon coming to the end of the path, and then made our way under the bridge to a statue we were wanting to see.
Kindred Spirits: Choctaw Native American Monument
Sinéad gave a wonderful speech regarding the importance of this monument while we all let it sink in just how little aid was offered to the Irish people during a time of such hardship. It also took on such a greater meaning knowing just how close in time this was to the Trail of Tears (roughly 10 years prior). It was a remarkable act of generosity between two nations facing some of the worst examples of people's aptitude for inhumanity. The proud American apple might not have fallen so far from the loathsome British tree as some might wish to believe.
We made our way back to our vehicles and proceeded to make the incredibly short journey to our next location on our adventure.
The Jameson Experience
https://www.jamesonwhiskey.com/en-US/visit-us/jameson-distillery-midleton/jdm-our-experiences/jameson-experience
Sinéad and I went into this tour with mixed feelings. We were excited as this was a well established historical distillery known worldwide, but it also seemed a bit on the expensive side at face value. We could not have been happier with the tour by the time we wrapped it up, though! There was far more to do and see on the tour than we could have expected. While we might not spring right into doing the tour again the next time we visit, I'm sure we would not be against doing it again sometime in the future after we've seen some additional sights Ireland has to offer.
We joined Deacon Arnold, Eddie and Theresa for the tour. We all acquired our tickets, made last minute stops at the rest room (as this was going to be over an hour), witnessed a spider causing a commotion outside the bathrooms, and did a quick run through the gift shop before regrouping for the tour.
The lady in the bright reflective coat was Christianna and was our tour guide. She was from New Zealand and she was the best tour guide they had. No need to debate! We followed her call in to start the tour and she was kind enough to smile for our picture as well. We hopped into the movie and were offered a fairly succinct history of the distillery. Much like Guinness was first brewed in Cashel (Spoiler alert! That'll be sure to get some comments!), Jameson was first officially brewed in Dublin and then later moved to Midleton - and all started by a Scottish man, nonetheless. We wrapped up the movie and begun our tour of the much larger than anticipated old distillery.
At the giant copper wash still our tour guide explained to us the process of the triple distillation Jameson implemented. She also explained the continuous distillation system. She then has a few volunteers come forward to ring the bell; 1 for lunch break, 2 for end of day, and 3 for when the boss was coming around.
We then headed outside to see the chimney stack where all the coal fumes were vented through. It was quite the chimney and must have been quite the ventilation system to put together. I also took the opportunity to photograph some of the area surrounding the chimney outside.
We headed back inside to see a newer Wash, Feints, and Spirit Still setup. There was a lot of shiny factor going on with this setup!
The next area we walked into contained a bunch of the whiskey barrel crafting supplies. It was both rustic and artistically setup. One of the most impressive features was the "Angel's Share" display. The various ages of Jameson whiskey. The difference in color as the years progressed was no subtle change. The loss of volume through-out the years was no subtle change either. I wished that I could have grabbed a non crowded shot with the lights still on, but the lights were flipped off as soon as people were moving to the next section.
The next room we were brought through was the whiskey fermentation room. A room full of whiskey barrels all allowing the whiskey to age in create an incredible aroma. The room smelled of oak, cherry wood, and a hint of whiskey. It was an interesting aromatic experience. We were nicely asked not to leave any electronics on while walking through this room as the same aromatic experience we were enjoying was also potentially very volatile. We made our way out of the building and wrapped back around to another room of great interest, the tasting room.
Those of us who wished to taste test some varieties of whiskey started with the Jameson glass in the center. That was the triple distilled sample. The next sample was the Johnny Walker Black Label, the double distilled sample. The last was the Jack Daniels, that was the bog wa….I mean single distilled sample. Jameson was obviously the smoothest sample of the bunch. I knew going into the Jack that I was not going to like it… We wrapped up our samples and were deemed official Whiskey Taste Testers! We then headed back through the factory to enjoy an additional full sample at the Jameson bar.
We enjoyed our final drinks and then checked into the gift shop conveniently located at the exit of the bar. Sinéad and I thought it would be nice to grab a couple quick gifts on the way out. Among those gifts was a flask that we were able to get engraved at the checkout register. We had a fun chat with the man who checked us out. He might have been giving a man a bit of a go in good humored fashion.
From there, I was a bit tipsy, and Uncle John agreed to take over the driving back to the AirBnB. We made it back, enjoyed dinner, and started settling in for the evening. A couple long awaited guests arrived to visit with us shortly after dinner was cleaned up. Sinéad and I headed out to welcome and invite her Uncle Frank and Aunt Marion to the humble AirBnB. We enjoyed several introductions and did our best to catch up with them on all that had happened in the year between our last visit. The evening was a fast progression and, given it was the beginning of the work week, we all too soon had to reluctantly bid our farewells. Sinéad and I thanked Uncle Frank and Aunt Marion coming out of their way to visit and wove our goodbyes as they made their way back home.
We stayed up a little bit later that night, but our tomorrow was rolling back around just as quickly as our today had. We got our rest so that we would be ready for the next day of adventures.